Act 4 Inclusion
Choice, Control, Independence.
We are a non-party political campaigning organisation involving disabled people, carers, trade unionists, activists, academics and health and social care professionals and workers.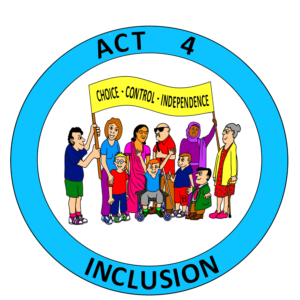 We believe Act 4 Inclusion's vision for the future is bold and transformative; it is one that puts people's choice, control and lifestyles first. Our new vision and strategy grew out of difficult and uncertain times for disabled and older people and emerged from discussion, lived experience, and the opportunity to work together in coproduction. We realised that our vision and all we do, requires us to go beyond reclaiming, fixing or integrating the failing current system we call "Adult Social Care". We truly need to build a better future for all people and our natural environment.
To achieve this, we need to develop an eco-social approach towards a new system of support which has its foundations rooted in the social model of disability and the disabled people's independent living movement, but also with the added responsibility to understand and incorporate natural ecosystems into our way forward for social support. Read more About Us
Join Us!
Individuals
We urge individuals to become involved and join our campaign to fight against the cuts in social care and support and for a radical change in the way social care is delivered. You can join as an individual member for £5 per year.
Affiliates
If you are a member of a trade union, campaign, or other organisation that wants to see radical change to our social care system, please become an affiliate.
Donations
We are run by volunteers. We rely on donations to help drive our work forward. Every penny goes towards our campaigning!
Please make a donation via Stripe (our payment processor) through this link: